Provider Newsletter January 2020
Practice Tactics
Informed Consent
Starting January 1st, 2020 the Oregon Health Authority requires CCO's to ensure a signed informed consent is completed prior to all sterilization and hysterectomy procedures.
For hysterectomies, please complete the OHP 741 (OHP 741 Spanish) form, "Hysterectomy Consent," and include with the prior authorization requests.
For sterilizations, please complete the OHP 742A (OHP 742A Spanish) form, "Consent to Sterilization," for members who are ages 21 and up, OR the OHP 742B (OHP 742B Spanish) form, "Consent to Sterilization," for members ages 15-20 and include with the prior authorization requests.
If you have any questions regarding this process please contact our Prior Authorization department via email at priorauthorizations@umpquahealth.com.
Use CIM for Prior Authorizations
Speaking of prior authorizations (PA), you can electronically submit your prior authorizations online through our CIM provider portal. Sign up for this resource to improve your office efficiencies by having direct access to our member services, prior authorization and claims team. We can better assist you with questions of member eligibility, and prior authorizations and claims status'.
Click here for a step-by-step tutorial to gain access and submit authorizations.
UHA is encouraging all in network providers to gain access to CIM as soon as possible as it will be a requirement in the first quarter of 2020.
In addition, UHA prior authorization teams will now be uploading the PA's determination letter to the Attached Documents link within the authorization request and notifying the providers of the final status via CIM email.
For more information, please email PriorAuthorizations@umpquahealth.com.
New Atrio Contact
As of January 1, 2020 UHA is no longer reviewing prior authorizations for ATRIO health plans. Please send all PA requests for ATRIO primary members to P3 at their Douglas County fax number, (541) 672-4318. If you have any questions, you can reach the P3 prior authorization department at (503) 391-4922 or via email at umanagement@p3hp.org.
Clinical Corner
Formulary Update
UHA has updated the formulary and posted it online. We also posted our pharmacy PA criteria (for medications only) that can be accessed on the provider page as well (https://www.umpquahealth.com/for-providers/).

When viewing the Formulary, the restrictions column alerts the prescriber to the restrictions that apply to a drug. For drugs that require a Prior Authorization (PA), the PA Guidelines document will have the specific criteria UHA uses for approval.
Changes to The Prioritized List in 2020
The prioritized list undergoes its annual update effective January 1st, 2020.  There are usually some minor revisions that occur in May and October as well.  The new list and a description of the changes are now available on the OHA website at: https://www.oregon.gov/oha/HPA/DSI-HERC/Pages/Prioritized-List-Pending.aspx.   There are a lot of addition and deletions of ICD-10 diagnosis codes and CPT procedure codes, in addition to some notable new and revised guideline notes for coverage.  This year, Lines 1-471 are covered by OHP.
This month I wanted to highlight the following:
Counseling for pregnant and post-partum women for the prevention of peripartum mood disorders is now a covered benefit.  See Guideline Note 197 for details.
Chronic Sacroiliac Joint conditions are now a covered benefit for diagnostic injections when SIJ fusion surgery is being considered.  The specific criteria for this surgery is outlined in Guideline Note 161.
Neuropsychological testing is a covered service, but only when symptoms are not explained by an existing diagnosis and when the results of such testing will be used to develop a care plan.  See Diagnostic Guideline D26.
Telehealth services have undergone an extensive clarification and coverage guidelines are provided for the new national CPT codes that were approved this past year.  These include patient to clinician services (via telephone or electronic) and Clinician-to-Clinician telehealth consultations (telephonic and electronic).  Ancillary Guideline A5 provides the details/documentation criteria.
On the Lookout
STDs Decline in 2019
Overall, 2019 saw a decrease in reported STDs from the prior year. Gonorrhea cases decreased almost 39%, Chlamydia cases decreased 31%, and Syphilis decreased over 50% down from 14 cases reported to just 6. Unfortunately, 5 cases of HIV were reported in 2019, up from zero in 2018.
While this overall decrease in STDs is certainly good news, there is always room for improvement. In addition to continuing to encourage screening and proactive treatment when illness is suspected, we recommend more suspicion on asymptomatic extra-genital infections. The majority of STD screening, especially for high risk patients such as men who have sex with men, should also include rectal and pharyngeal swabs in addition to the traditional genital swabs and/or urine testing.
Two-Year Old Immunization Rates Increase
Many primary care clinics in Douglas County participate in AFIX, an immunization improvement program developed by the CDC. DPHN's Modernization Program began working on this project in 2018.  Douglas County's AFIX group has been meeting monthly to share information, discuss tactics and strategies, and offer support and ideas, focusing on steps clinics can take to help improve the rate of up-to-date immunizations. In this time, the twelve clinics that participate have increased the up-to-date immunization rate for 2-year-olds by 10%, from 57% to 67%. While the goal is to improve rates to at least 80%, this is fantastic improvement for just one year's work.
Please be aware that changes are coming to the program starting in 2020. CDC has retooled AFIX and shifted emphasis to four primary strategies for improving immunization rates. Moving forward, the program will be known as IQIP (Immunization Quality Improvement for Providers).  Under this new program, assessment and feedback will be a 12-month process consisting of an initial site visit, check-ins at 2 and 6 months, and a 12-month follow-up. Please contact DPHN if you would like to be involved in the IQIP immunization improvement project.
This Is Quitting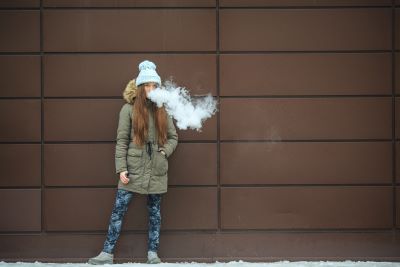 While the nationwide outbreak of Vaping Associated Lung Injury (VALI) appears to be on the decline, vaping is still very much a concern. The exact cause of the outbreak has still not been conclusively determined, and the long-term impacts of e-cigarette use are still largely unknown.
Douglas County youth and young adults, between the ages of 13 and 24, who are interested in quitting vaping can enroll in a FREE, text-based cessation program from the Truth Initiative called This Is Quitting. Messages are tailored to participant age and product usage and provide support, tips, and tricks to help users quit. Those not yet ready to quit can receive messages designed to help build the confidence and skills needed to take that next step. To enroll, patients need only text "VAPEFREEDC" to 88709.
This Is Quitting is available in Douglas County as part of collaboration between DPHN, CHI Mercy Health, and Blue Zones Project-Umpqua.
Palm cards and flyers have been distributed to schools, youth organizations, and clinics across the county. If your clinic hasn't received materials or would like more, please contact DPHN's Tobacco Prevention and Education Program at 541-677-5825.
Opioid Use Disorder (OUD)
With the New Year came a spike in overdoses in Douglas County. While it is unclear what specific substance is to blame (heroin, fentanyl contaminated meth), the increased is believed to be associated with illicit opioids.
Opioid Use Disorder (OUD) is a recognized mental disorder in the DSM-5.  Providers should assess for OUD using DSM-5 criteria; and, if suspected, discuss their concerns with their patients. There are a number of treatment resources and evidence-based treatment options available in our community. You should be familiar with these resources and, when OUD is suspected, offer or arrange for treatment and assist with any follow-up and ongoing coordination of care.
Finally, if you suspect a patient suffers from OUD, do not dismiss them from your practice. Dismissing patients with a substance abuse disorder can adversely affect patient safety and potentially represent patient abandonment.
Resources:
Adapt Opioid Treatment Program: https://www.adaptoregon.org/addiction-treatment/adult-services/opioid-treatment-program/, 541-672-2691; Adapt offers both outpatient and residential services, Detox services, and DUII services at a number of locations in Roseburg. (Services also available through their North Bend office in Coos County.)
Cow Creek Health & Wellness: Certified to provide outpatient SUD services, culturally appropriate services for Cow Creek Band of Umpqua Tribe of Indians. Locations in Roseburg and Canyonville. North Clinic: 541-672-8533, South Clinic: 541-839-1345
Serenity Lane: Certified to provide outpatient SUD services and DUII services. Located in Roseburg. https://serenitylane.org/location/roseburg/, 541-673-3504
HIV Alliance: HIV Alliance services emphasize Harm Reduction and include a needle/syringe exchange program (NEX) and certified training and provision of naloxone. https://hivalliance.org/prevent/syringe-services/, 541-342-5088
CME for Thee
Naloxone Training for Patients and Families
The HIV Alliance provides trainings on proper use of Naloxone for patients, families, and clinics/agencies free of charge.  Please review the FAQs and brochure for further information.
From the OHA Transformation Center:
HbA1c Diabetes Incentive Metric Support – Webinars
Join the Transformation Center for three webinars focused on the HbA1c incentive metric. These webinars will be presented by Dr. Andrew Ahmann, director of the Harold Schnitzer Diabetes Health Center and recipient of the 2018 Outstanding Physician Clinician in Diabetes Award from the American Diabetes Association.
A systems approach to improving diabetes care. 1/22, 7–8 a.m. Register here: https://attendee.gotowebinar.com/register/581498014367491597
Audience: Quality improvement staff and diabetes/chronic disease care coordinators at CCOs, Tribal health systems and other health systems.
Working with pharmacists on a diabetes care team. 2/3, noon-1 p.m. Register here: https://attendee.gotowebinar.com/register/5787231473584789517
Audience: Primary care physicians, specialty physicians, physician assistants, nurse practitioners, pharmacists.
Available for CMEs. See attached flyer for details.
Patient education and engagement in diabetes care. 2/28, noon-1 p.m. Register here: https://attendee.gotowebinar.com/register/1321879457698122765
Audience: Primary care physicians, specialty physicians, physician assistants, nurse practitioners, pharmacists.
Contact: Sarah Wetherson (sarah.e.wetherson@dhsoha.state.or.us)
Diabetes Education and Empowerment Program (DEEP)
Classes are starting soon! For more information or to sign up, contact Cady Lyon at (541) 464-4939 or calyon@umpquahealth.com