Douglas County gets approval to reopen businesses, small gatherings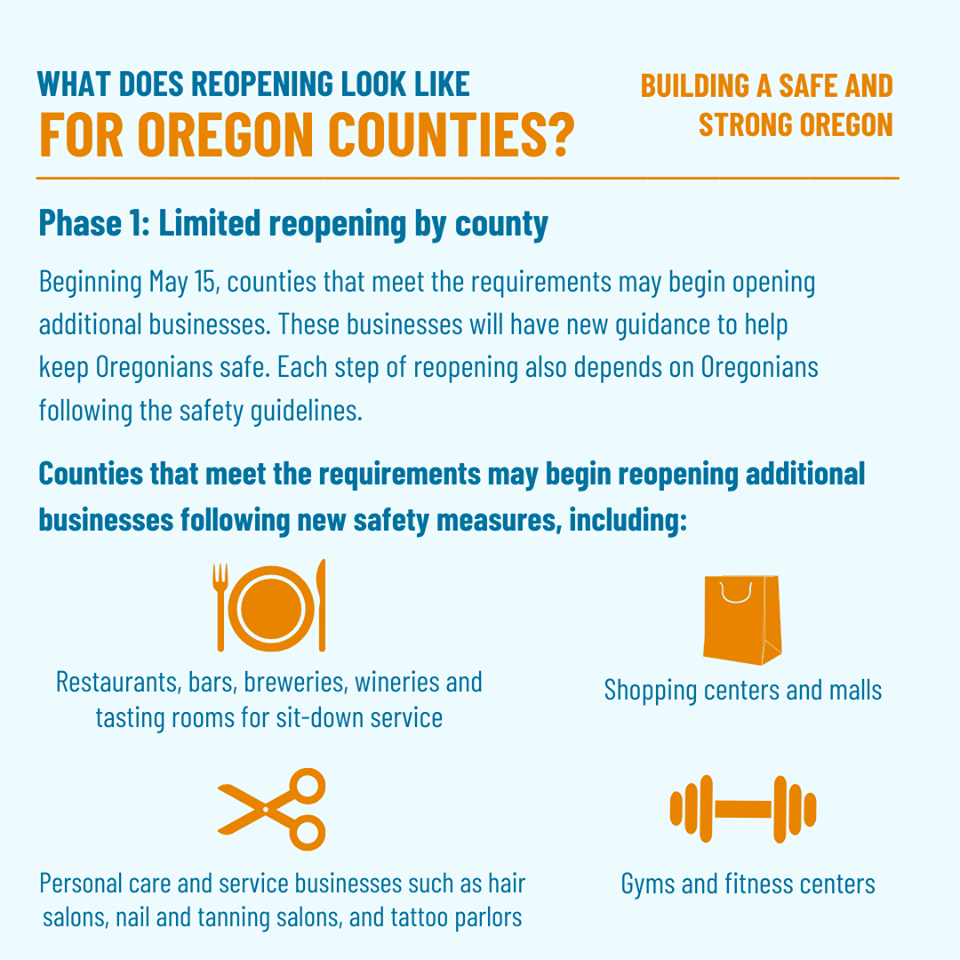 Douglas County was one of the 30 counties approved for Phase One reopening on Friday, meaning restrictions on many businesses and public gathering are being loosened.
Counties in Phase One will be reviewed weekly and if a spike is seen in cases or hospitalizations, the Oregon Health Authority (OHA) will use scientific data to determine if contact tracing and quarantine can control the spike or if the county needs to pause its current phase to contain the spike. This may include additional help from OHA staff as contact tracers.
The goal is to help the county test, trace and isolate without having to pause and reopen.
After three weeks of meeting testing and contact tracing prerequisites without an increase in hospitalizations, counties may apply to enter Phase Two which offers wider leeway on workplace reopening and social gatherings.
Restaurants and Bars
Ensure tables are spaced at least 6 feet apart so that at least 6 feet between parties is maintained, including when customers approach or leave tables
Require all employees to wear cloth face or disposable coverings (provided by the employer)
End all on-site consumption of food and drinks by 10 p.m.
Personal care services
Make appointments with pre-appointment health check
Maintain a customer log
Maintain Six feet physical distancing between clients
Remove all magazines, newspapers, snacks and beverages from waiting areas
Require face coverings by employees and clients (depending on the services provided)
Gyms/Fitness Centers
Limit maximum number of customers accordingly
Enforce physical distancing & sanitation
Local gatherings
Limit local gatherings to 25 with no traveling
Still open
Grocery stores, pharmacies, banks and credit unions, and gas stations.
Stand-alone retail operations are open provided they meet required safety and physical distancing guidelines. Indoor and outdoor malls are closed.
Local outdoor recreation activities are open, including many state parks.
Non-emergency medical care, dentist offices and veterinary care are open and operating, provided they meet required safety guidelines.
Local cultural, civic and faith gatherings are allowed for up to 25 people provided physical distancing can be in place.
Childcare is open under certain restrictions, with priority placements for children of health care workers, first responders, and frontline workers.