Provider Newsletter August 2019
Practice Tactics
PA Requests
We still continue to see a number of PA requests from PCPs for services that are directed/performed by specialists.  Specialists are better able to request the specific imaging or procedures that they desire for a patient. So PCPs should remind specialists to enter their own requests and improve the efficiency and accuracy of the process!
Umpqua Health Alliance Earns 100% of Quality Incentive Pool Funding for CY2018
Umpqua Health Alliance (UHA) has met the benchmark or improvement target on 13 of the 17 Coordinated Care Organization (CCO) incentive measures for calendar year 2018.
The 2018 CCO Metrics Report details Oregon's pay-for-performance program where OHA created a quality pool from a percentage of monthly CCO payments to reward performance. To earn their full incentive payment, CCOs have to meet benchmarks or improvement targets on at least 12 of the 16 measures and meet a performance goal related to enrollment in patient-centered primary care homes.
The quality pool model rewards CCOs for the quality of care provided to Oregon Health Plan members. This model increasingly rewards CCOs for outcomes, rather than utilization of services, and is one of several key health system transformation mechanisms for achieving Oregon's vision for better health, better care, and lower costs.
The Metrics and Scoring Committee established the performance metrics for 2020 at its July 19 meeting. Two of the new measures are part of a multi-year strategy focused on the health sector's role in preparing children for kindergarten (well-child visits for children ages 3-6 and preventive dental visits for ages 1-5). The other new measures focus on immunizations for adolescents and ensuring those newly diagnosed with substance use disorders are able to access treatment.
For a detailed report of the CCO metrics and how much each CCO earned through the pay-for-performance program, visit the OHA Health Policy and Analytics website.
On the Lookout
Douglas County, like many other places in the United States, has been experiencing rising rates of diseases, overdoses, and deaths associated with licit and illicit drug use.
The Oregon HOPE (HIV, Hepatitis and Opioid Prevention and Engagement) Study is underway in some rural communities in Oregon including Douglas County. The study is trying to understand how rural communities are affected by the syndemic associated with substance use, overdose, injection drug use and infections related to substance use, including HIV, hepatitis C, and syphilis. Further, it will develop, conduct, and evaluate rural response efforts to address these issues together through screening, linkage to care, and rural provider training and on-going support. The syndemic consists of multiple, linked conditions and issues that are associated with substance use (licit and illicit drugs and alcohol): overdose, sexually transmitted infections, injection drug use-related infections, and other morbidity and mortality from these conditions.
The Oregon HOPE Study has as its aims:
Aim 1: Conduct community assessments in two high-risk rural Oregon counties to inform development of a community-based program to increase HIV/HCV testing among people who use drugs (PWUDs) and linkage to accessible treatment services.
Aim 2: Develop and evaluate feasibility of a rural community-based service plan comprising (1) Peer Care Coordinators (PCCs) for HIV/HCV testing and linkage to HIV, HCV, and opioid use disorder (OUD) services and (2) telehealth support of rural primary care providers for office-based treatment of HIV, HCV, and OUD.
Aim 3: Refine and evaluate the impact of rural PCCs and telehealth provider support on rural PWID's HIV testing rates, engagement in appropriate HIV, HCV, and OUD treatment.
▪ Peer care coordinator intervention to enroll 800 persons who inject drugs (PWID) in 8 rural counties
▪ Use State Medicaid and epi data used to assess HIV/HCV testing & treatment and OUD treatment, compared with matched controls.
Related epidemiologic statistics include: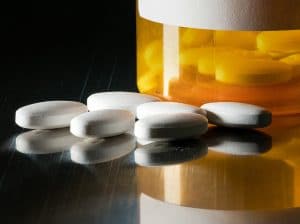 A 32% increase in syphilis cases between 2012 and 2016 in Oregon;
An increase in congenital syphilis cases from zero in 2013 to 8 cases in 2016 in Oregon;
A 53% increase in chronic hepatitis C cases between 2012 and 2016 in persons under 30 years of age in Lane and Douglas Counties;
An increase from 2 per 100,000 to 5 per 100,000 of new HIV cases between 2012 and 2016 in Lane and Douglas Counties;
Proportions of cases reporting injection drug use between 2012 and 2016 in Lane and Douglas Counties:

HIV – 22%
HIV deaths – 52%
Syphilis – 34%
Chronic Hepatitis C infection in persons under 30 years of age – 85%
Among inpatients who are persons who inject drugs are severe bacterial infections. The increases in use of injected opioids and amphetamines are associated with increases in infections, especially bacteremic sepsis and infections of the skin and soft tissues.
In order to address the syndemic, key strategies are being developed. They include: reduce stigma; improve community infrastructure; collaborate across sectors; use evidence and data to make decisions; increase protective factors; and reduce risk factors and support harm reduction.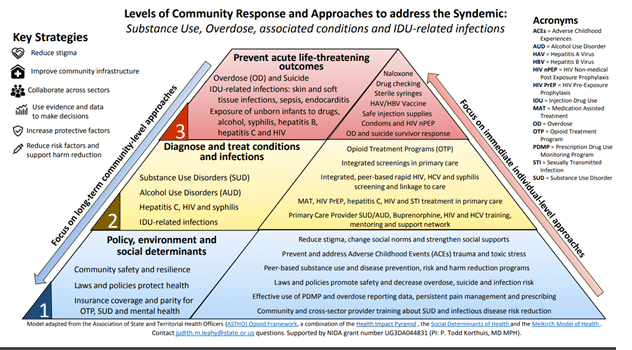 Douglas Public Health Network would like to frame the discussion around harm reduction, recognizing that drug abuse occurs and that we have an obligation to address interventions which can be controversial. Here are the Principles of Harm Reduction (from the Harm Reduction Coalition – HRC). Source
Harm reduction is a set of practical strategies and ideas aimed at reducing negative consequences associated with drug use. Harm Reduction is also a movement for social justice built on a belief in, and respect for, the rights of people who use drugs.
Harm reduction incorporates a spectrum of strategies from safer use, to managed use, to abstinence, to meet drug users "where they're at," addressing conditions of use along with the use itself. Because harm reduction demands that interventions and policies designed to serve drug users reflect specific individual and community needs, there is no universal definition of or formula for implementing harm reduction.
However, HRC considers the following principles central to harm reduction practice.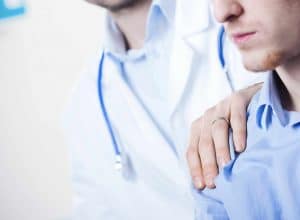 Accepts, for better and or worse, that licit and illicit drug use is part of our world and chooses to work to minimize its harmful effects rather than simply ignore or condemn them.
Understands drug use as a complex, multi-faceted phenomenon that encompasses a continuum of behaviors from severe abuse to total abstinence and acknowledges that some ways of using drugs are clearly safer than others.
Establishes quality of individual and community life and well-being–not necessarily cessation of all drug use–as the criteria for successful interventions and policies.
Calls for the non-judgmental, non-coercive provision of services and resources to people who use drugs and the communities in which they live in order to assist them in reducing attendant harm.
Ensures that drug users and those with a history of drug use routinely have a real voice in the creation of programs and policies designed to serve them.
Affirms drugs users themselves as the primary agents of reducing the harms of their drug use and seeks to empower users to share information and support each other in strategies which meet their actual conditions of use.
Recognizes that the realities of poverty, class, racism, social isolation, past trauma, sex-based discrimination and other social inequalities affect both people's vulnerability to and capacity for effectively dealing with drug-related harm.
Does not attempt to minimize or ignore the real and tragic harm and danger associated with licit and illicit drug use.

Information in this section is provided by Douglas Public Health Network. If you have any questions about the content, please contact the DPHN office at (541) 440-3571.
Clinical Corner
Umpqua Health Alliance utilizes the Prioritized List of services and the Health Evidence Review Commission for guidance in determining medical appropriateness and coverage of medical care.  We also utilize our subscription to InterQual® for evidence-based clinical intelligence to support our decisions for appropriate care, primarily for hospital stay criteria and therapies.  Our local Clinical Advisory Panel (CAP) identifies specific Clinical Practice Guidelines (CPG) from nationally recognized organizations that are adopted for UHA as guidance for management of common conditions.  These CPGs are located on our Provider Web Portal here.  And because medical practice covers a variety of conditions that may not applicable to guidelines, we utilize UpToDate as a resource for information that is current, evidence- or consensus-based and is available to all providers.
CME for Thee
Think Cultural Health!
As healthcare disparities among cultural minority groups persist in our country, culturally and linguistically appropriate services (CLAS) are increasingly recognized as an important strategy for improving quality of care to diverse populations. This e-learning program will equip you with the knowledge, skills, and awareness to best serve all patients, regardless of cultural or linguistic background.
NATIONAL CLAS STANDARDS (9 CME credits)
This e-learning program is grounded in the HHS Office of Minority Health's National Standards for Culturally and Linguistically Appropriate Services (CLAS) in Health and Health Care. Click here fore more information.
Advanced Directives and Advanced Care Planning in your Practice
The Oregon Health Plan and UHA encourages providers and their staff to be trained in Advanced Directives and provide this information to patients, especially those with chronic and life-threatening illness.  Resources for your practice include:
Oregon Health Decisions, 503-692-0894 or 1-800-422-4805 (oregonhealthdecisions.org) has resources for patient education and are available for in-person training.
CMS provides a fact sheet on billing for time spent discussing Advanced Directives with your patients.  This is covered by both Medicare and Medicaid (OHP).