Infant mortality rate declines through CCO work
The infant mortality rate in Oregon saw a marked decline after 2012, specifically among Medicaid patients. Researchers at Oregon State University dug into the data and found that the implementation of Coordinated Care Organizations (CCOs) played a big part in the trend.
CCOs like Umpqua Health Alliance were created in 2012 to deliver better care to low-income Medicaid patients in Oregon. They do this by integrating care between a range of providers, making sure each patient is referred to the correct doctor, dentist, specialist and even social worker to receive comprehensive care. By creating that network, a patient's social determinants of health are met, not just their immediate health needs.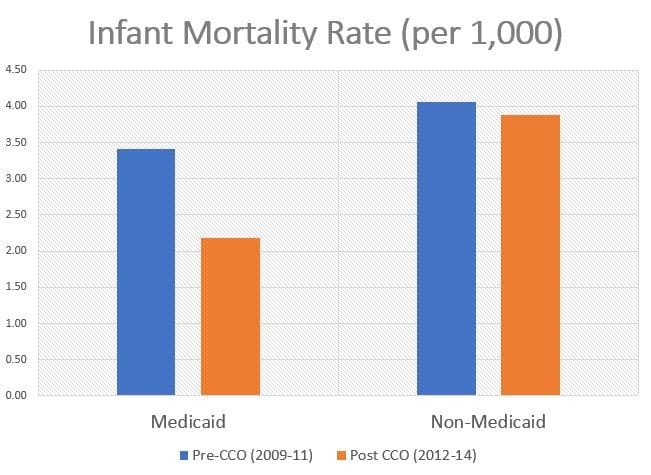 The OSU study tracked 300,000 births in Oregon over a six-year span. It found the infant mortality rate among Medicaid patients was 3.4 per 1,000 births in the three years before CCOs began operation, and 2.2 per 1,000 births in the three years after. In the same time period, patients who do not receive care through CCOs saw a decline from 4.1 to 3.9.
This change can be attributed to a stronger focus on the most vulnerable patients, said Dr. Douglas Carr, Chief Medical Officer at Umpqua Health.
"A group that we identify as high risk are mothers with substance abuse issues," said Dr. Carr. "Those behaviors discourage them from seeking prenatal care. But we know that without good prenatal care, we see increases in the infant mortality rate."
One program in particular – New Day – pursues these at-risk pregnant women and connects them to substance abuse programs, prenatal care and a variety of other services, guiding them through pregnancy. The program has been responsible for a decrease in the number of newborns in the neonatal intensive care unit, according to data compiled by Mandy Rigsby, Behavioral Health Coordinator for the program.
The decline in infant mortality was most significant among babies born before 37 weeks, according to the study. These are the highest-risk births, and seeing an increasing survival rate is good news.
"There's no doubt it's had a big impact," Dr. Carr said. "And because we're talking about expectant mothers, it doubles the impact. We're talking about two lives instead of one."
Dr. Carr said he believes the reason CCOs have been so effective in decreasing the infant mortality rate is the specialized and personalized care they offer. The infant mortality rate has essentially been unchanged among women on commercial insurance plans.
"Medicaid covers the most at-risk people in the state, so it's really something when the rate is better than for people not on Medicaid," he said. "It's because these cases are managed by a locally developed organization that's in better touch with its members."
CCOs also encourage well-woman visits, contraception, and screenings for cervical cancer and sexually transmitted diseases. These services were included in Medicaid expansion that took place in 2014 and have also increased the health of mothers and newborns.
The study, found here, is part of an ongoing six-year project funded by the Centers for Disease Control and Prevention.