FAQ: What Does the COVID-19 Vaccine Mean for Me?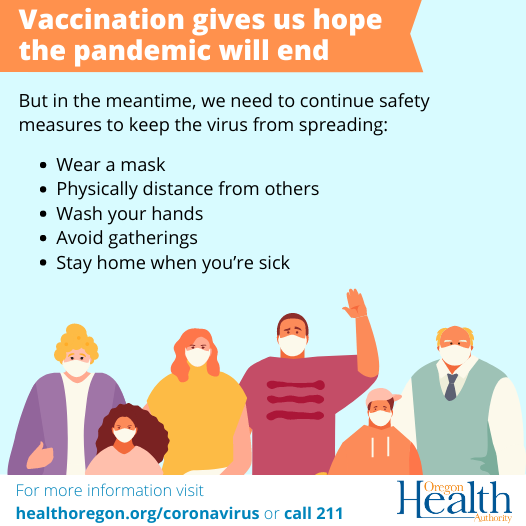 The COVID-19 vaccine arrived in Oregon the week of December 15. At this time, the vaccine is being selectively given  to health care workers, long term care facilities, staff and residents.
Vaccination is a great way to keep yourself, your family and your community healthy.
COVID-19 vaccines are 95% effective and have undergone rigorous safety testing.
People who are most affected by the COVID-19 virus will have first access to the vaccination. In Oregon, that will be front-line health care workers who are exposed to the virus in their work.
Vaccination gives us hope that the pandemic will end, but in the meantime, we need to continue safety measures to keep the virus from spreading: wear a mask, physically distance from others, wash your hands, avoid gatherings and stay home when you're sick.
Umpqua Health Alliance is in support of the COVID-19 vaccine and although most of the residents of Douglas county will not be vaccinated for weeks or months, this is a positive step towards ending the pandemic. We want to encourage our community  to continue to follow COVID-19 safety protocols.
UHA will post updates as things change in regards to the distribution of the COVID-19 vaccine.
For facts about the COVID-19 vaccines, please go here: Facts about COVID-19 Vaccines (cdc.gov) and Understanding mRNA COVID-19 Vaccines | CDC.
Frequently Asked Questions
Can I get the vaccine?
At this time, the vaccine is being selectively given out to health care workers, long term care facilities, staff and residents.   If you fall into one of these categories, please reach out to you Primary Care Provider or employer for more information.
Does UHA pay for this vaccine?
UHA will cover the COVID-19 vaccine free of charge for its members. If you have other insurance please contact them for coverage information.  If your primary insurance doesn't cover this vaccine, and you have UHA as secondary then we will still cover it at no cost to you.
Where can I get this vaccine?
At this time we do not know where the vaccine distribution is being done. Check back for updates.
Why can't I be vaccinated now?
The vaccine is new and OHA is working on a plan to distribute the vaccine in a fair way.  The agency has embarked on a robust, comprehensive, statewide effort to connect with individuals and organizations representing communities of color, tribal communities and people with intellectual and developmental disabilities through a diverse Vaccine Advisory Committee that is co-creating a vaccine distribution plan centering on the experiences of these populations.
More Information: